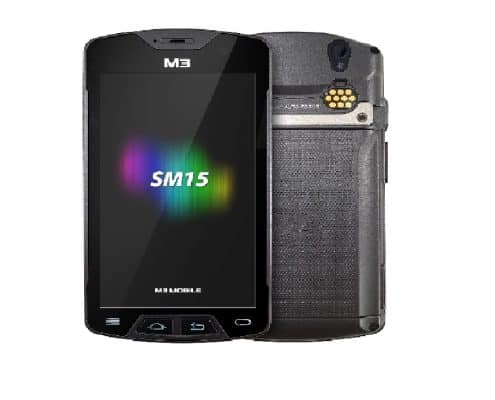 Industrial Smartphone
OS : Android
Battery: hot swap
IP65
Processor: 2,2 GHz Qualcomm Snapdragon 626 Octa-core (Cortex A-53), GPU 650MHz
Operating system: Android 7.1
Memory: 4 – 32GB,  up to 128GB with Micro SD
Display 5.0 inches (Full HD: 1920 x 1080) Bright color LCD with backlight, visible outdoors
Battery:  extended batteries (6.150mA) and hot swap function allowing the user to replace the battery in the field without rebooting the system. The SM15 series can standby + 200 hours with an extended battery without recharging.
Touchscreen: Strong, optically bonded, multi-touch capacitive touch panel for increased durability and visibility in the sun.
Keyboard: Four physical keyboard, dual action side scan triggers, Volume up / down, camera, power button
Audio: speaker, TRRS headphones and microphone stand, PTT -and Bluetooth® wireless headset support.
Camera: 16.0 Megapixel color rear camera with autofocus, advanced software features for better image quality